Does He Like Me?
"Stop focusing on whether or not he likes you.  Decide whether or not you like him." I LOVE everything about that statement.  One of my Twitter peeps, Suzanne @FantasyDaters shared that today and I had to write about it.  So many ladies date from a place of, "Does he like me?"  They'll leave a date then call their girlfriend like that chick Gigi did in the movie He's Just Not That Into You and go on and on with all sorts of scenarios to figure out if he likes you or not.
He Didn't Like Her
In the movie, Gigi's date Conor Barry ordered a second round of drinks on their first date and she took that to mean he liked her.  He didn't like her.  She was so desperate to be liked by him that she twisted herself into a pretzel trying to find out.  She wouldn't even accept her mother's phone calls because she wanted her line was free if/when he called.  Guess she didn't have call waiting? He never called!  Turns out he didn't like her.  That's her staring at her phone waiting to find out if he likes her or not meanwhile he went on with business as usual never giving a second thought to whether she liked him or not.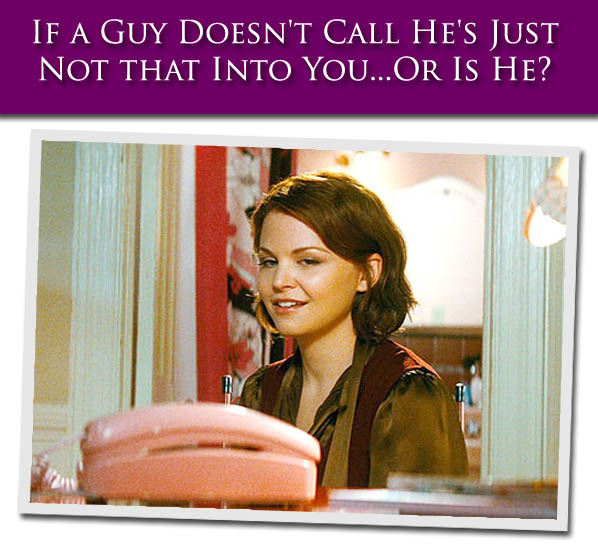 The Choice Is Yours
If more ladies approached dating from the mindset of deciding if she likes him, many would spend less time in dead end dating relationships.  Suzanne says, "Too often, we spend dates consumed by thoughts like, "Does he like me?" and "Do I look okay?" Thoughts like that take your mind out of the present and away from the date.  Just think of all the valuable information you may be missing while your mind is tripping.  Instead, remember, the choice is yours.  Relax and focus on what you like about your date and whether or not you'd like to see him again."
Be Gracious About It
Once you decide whether you like him or not, you know exactly what to do.  If you don't like him, it's time to tell him.  Don't lead him on.  Don't take advantage of him.  Don't  pull a couple more free meals and drinks out of him.  Don't waste his time or your time.  Tell him and be gracious about it.  No need to hurt his feelings.  If Conor had the courage to tell Gigi he didn't like her, she wouldn't have turned into a crazy person trying to find out.
Dating Takes Courage
The flip side is also true;  if you like him, tell him.  Dating takes courage.  If he says the feeling isn't mutual, good.  You're free to move on.  If the feeling is mutual, you have something to explore.  Either way, it's a win-win.  Deciding if you like him early on spears your feelings and his.  If he tells you he doesn't like you after a first date, what do you care? You just met him!
Something to think about…
What say you? Do women tend to focus more on him and what he likes while dating?  Why are some women so desperate to be liked? Are men just as desperate to be liked and hide it better or do they just not care?

Here are 2 things I'd like you to do now:
1.  Leave a comment below
2.  Share this post if you like it