Soul Ties Are Nothing To Play With
Last night was the explosive 2-part Married At First Sight: 6 Months Later reunion show and I was there front and center for all of it. Kevin Frazier was a great choice to host because, as a married man, he was able to offer his perspective and it was good. First up was Sean. People have called Sean weak and they've even stretched as far as calling him gay because he didn't consummate his union to Davina. I see Sean as neither. He's not weak and he's definitely not gay. I can't even begin to tell you how happy I am he didn't consummate. Soul ties are nothing to play with.
He Was Mismatched
What I saw in Sean was a man who was exhausted by the neediness of self-absorbed Davina who flat out refused to compromise on anything and thinks the world revolves around her and what she wants/needs. Sean came out of the gate last night and took full responsibility for any of his actions that contributed to their divorce. He teared up for a minute because he really wanted this to work. He signed up because he really wanted to find a wife. Unfortunately, he was mismatched.
Where Is Your Accountability?
When she joined Sean on the couch, she was mean and took zero responsibility. Dr Logan Levkoff leaned into her and asked Davina point blank, "What are you responsible for in this marriage at all?" Then Kevin followed up by asking, "Do you believe you're not to blame at all" and her first response was, "Sean shut down and he blames that on me." Then Dr. Cilona chimed in and asked, "Where is your accountability at all here?" and her response was, "I don't think he was ready for this and blah, blah, blah."  Everyone tried to get her to take responsibility and she took none. Bye, Davina. Dr Levkoff said it best, "The success of a marriage isn't just on one person. It's on both."
Divorce Is Now In Jessica's Vocabulary
And then there was the hot head Ryan D. Didn't I tell you all there was something ax murder crazy about him? Since the reunion, Jessica has filed a restraining order against him because he allegedly threatened to kill her AND her family. During the reunion, she called him out on his alleged cheating which he refused to discuss. At least he apologized last night for his foolery during the 6-week experiment. Jessica should've ended the experiment when he screamed, "Go read a book!" That would've been it for me. No man would ever talk to me like that then expect me to stick around. Too bad it took an abusive 6-week marriage experiment for her to find her voice. Because of this experiment, divorce is now in Jessica's vocabulary.
Marriage On A Platter
Last but not least was Ryan R and fan favorite Jaclyn who are no longer together.   As I see it and as I said here, Ryan is lazy and not up for the challenge. He'd rather go back to his mother's basement to live a safe life.  Ryan is what's wrong with men today. He needs to get off his mother's boob and out of that basement! Where are the men with a spine? Where are the men who are up for a challenge? Where are the men who can establish the lead for Pete's sake? Ryan kept going on and on about her big personality, which is exactly what he needs and his family as if they live in Zimbabwe. They live in Long Island; a car ride away. That's an easy fix! Jaclyn is the shot in the arm he needs to get a life! She is not his problem. She's his answer.  At least they were kind and polite to each other last night. The experts and Kevin saw that they have the ingredients to have a great marriage and they've decided to give it a second chance.  That great marriage won't happen by osmosis. Ryan has to grow a spine or have one surgically implanted then get in there and do the work. No one is going to hand you a marriage on a platter.
Marriage Is Not An Experiment
I enjoyed season 1 and I'm happy Doug and Jamie and Kortney and Jason are still going strong.  Season two didn't gel for me. With all that said, Married At First Sight needs to be cancelled. God did not create marriage to be an experiment. In the real world, you don't get to experiment with marriage. You marry and that's it.  After the reunion, I watched the last few minutes of the NBA Playoffs. I was so happy for Stephen "Steph" Curry and the Golden State Warriors. I knew they would win. It's Steph's time. Let me tell you a little bit about Steph and why I'm such a huge fan. Steph is a 27-year-old God fearing man of faith who married at the young age of 23.
Marriage Is All Or Nothing
When asked recently why marry so young, he said, "Why waste time if you've found the right one? I knew I found the right one. Didn't want to waste any time. Life is good with her." High five Steph! Together he and his beautiful wife Ayesha are the parents to their show stopping daughter Riley and they have another bun in the oven due in July. That's marriage. There was no 6-week experiment. There was a decision made and that decision continues to be made every day.  Seeing them celebrate on the court last night warmed the cockles of my heart. So yea, cancel Married At First Sight or remove the out clause and stick to the theme song that says, "It's all or nothing." Another option is to change it to Matched At First Sight.  Let the experts find great people and match them up.  There is a need for this show since over 7,000 singles signed up this season and overall marriage-minded singles are having a challenge meeting.  I'm just not into the experiment factor.  Marriage is all or nothing. It's not an experiment.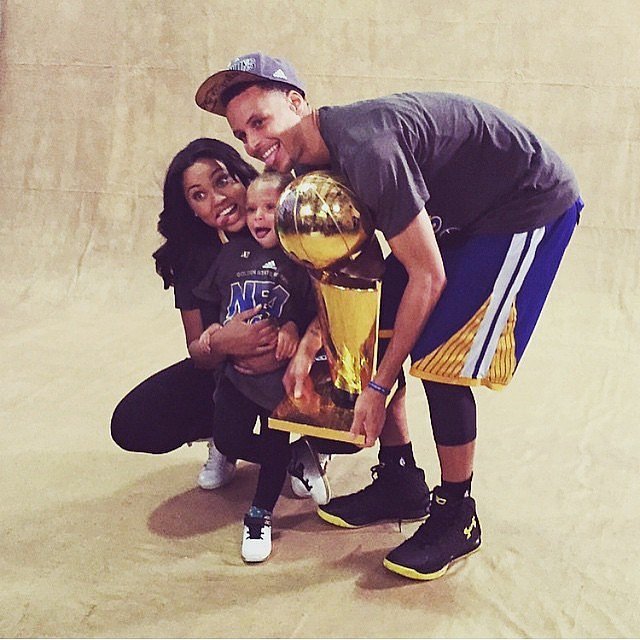 Something to think about…
What say you? Did you watch last night? What are your thoughts on season 2 and the couples overall? Should Married At First Sight be cancelled? 
Here are 2 things I'd like you to do now:
 1.  Leave a comment below
 2.  Share this post if you like it
P.S. Jaclyn confirmed via social media today that she and Ryan have split.