Magical Thing
Today I sat down to catch up on TV and watched Oprah interview comedienne Kevin Hart.  When the topic came up about his new relationship of five years, Oprah asked if he plans to remarry.  She specifically asked him "Does marriage matter?" and he said, "There's a certain magical thing that comes with marriage when you find that right person.  Marriage matters."  Marriage still matters to Kevin even though his first marriage ended in divorce.  That's a beautiful thing.
Fifty Years Of Marriage
My parents came to mind while listening to his thoughts on marriage.  Last week they celebrated fifty years of marriage.  They know all about that magical thing.  I wish I could show you the video of them cutting their anniversary cake and feeding it to each other then sealing it with a kiss just like they did on their wedding day.  They continue to show me why marriage matters.  I've learned so much from watching them over the years.
Your Original Parents?
Being married to the same person for fifty years is not easy.  Day in and day out they figure out how to deal with each other.  Day in and day out, they figure out how to honor their vows.  Day in and day out, they figure out how to honor God and be a reflection of his love.  Flaws and all, they are a living example of Gods plan for marriage.  I've seen my father love my mother as Christ loved the church and gave himself for it.  My dad is an excellent man of God and he's an excellent husband.  He strives daily to be the husband God called him to be while my mother strives daily to be the suitable helper he called her to be.  When I told someone my parents celebrated fifty years of marriage, he said, "Your original parents? That doesn't happen anymore! How'd they do that?" They did it and continue to do it by the grace of God.  It wouldn't be possible without him.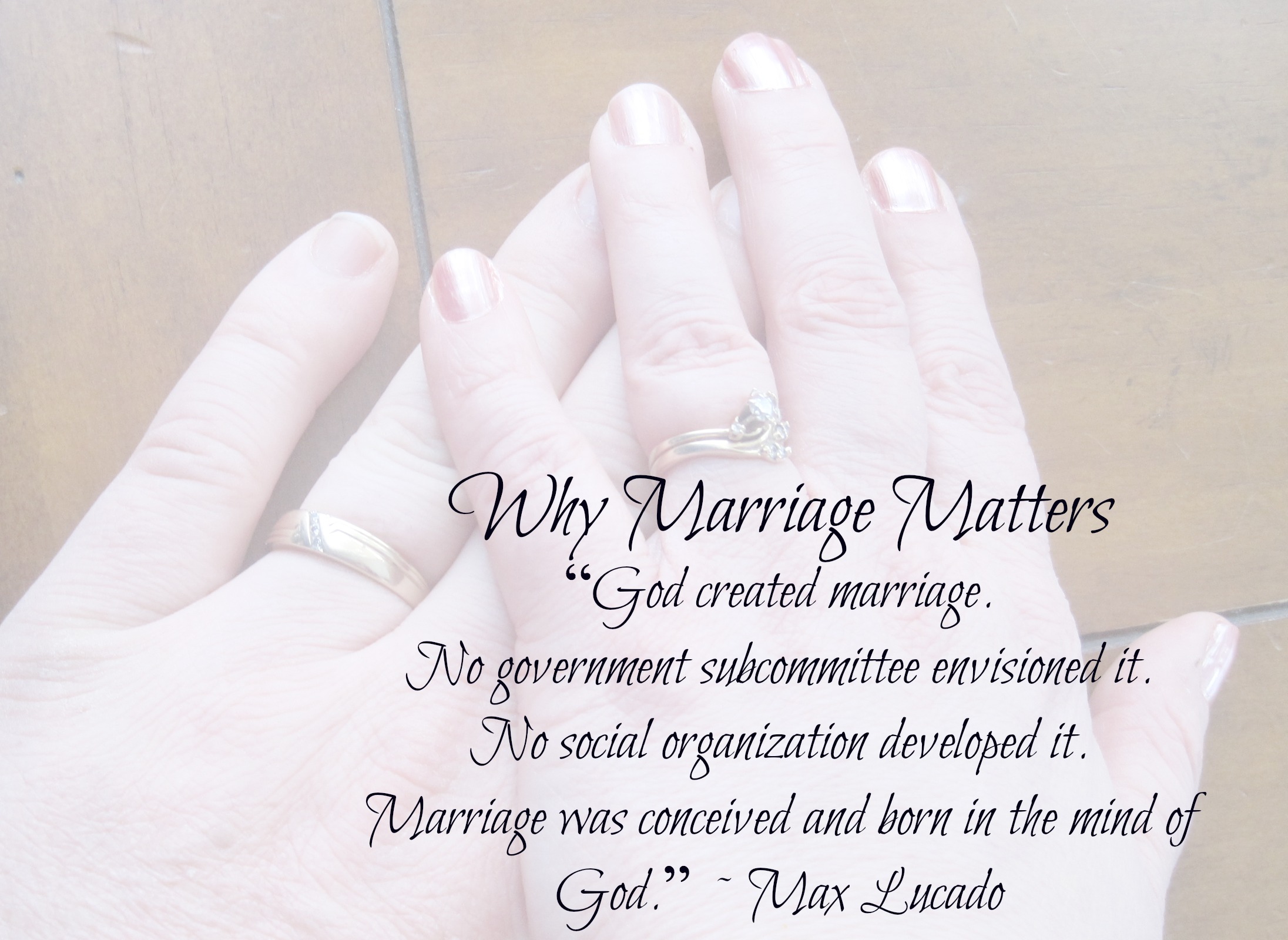 Its Just A Piece Of Paper
Unfortunately, we live in a world that screams marriage doesn't matter. We live in a world that screams, live together.  No need to get married.  It's just a piece of paper.  You don't need it.   I disagree with that completely especially when kids are involved.  This week I've been hanging out with a girlfriend and her family.  Together she and her husband have three children; two boys and one girl.  She's great at disciplining them but there's something about her husband's presence in the home that makes their kids fall in line.  They know what time it is as soon as he walks in any room.  Not because he's a militant disciplinarian…far from it. 
All The Difference In The World
There's just something about a man's constant presence in the home that makes all the difference in the world.  His presence is felt in a way it wouldn't be felt if he was stopping in once a week or if she were taking them to his place every other weekend.  Together they are teaching their kids about marriage, parenting, manhood, womanhood and so much more.  The same was true for me when I was a kid and it's still true for me now.  I believe children do better overall when they live with their own two married parents in a balanced, healthy loving home. 
Something to think about…
What do you believe? Does marriage matter? Why? Why not?
Here are 2 things I'd like you to do now:
1.  Leave a comment below
2.  Share this post if you like it