The Second Wives Club
The other day while watching The Real, the ladies were talking about the Second Wives Club.  At first I didn't know what that meant until Adrienne shared her personal experience.  She got engaged recently to a divorcee and now she will be his second wife, hence the Second Wives Club.  Watch the video below and we'll talk after…
We All Have Some Kind Of Baggage
My preference is not to marry a divorced man simply because I've never been married and I'd like us both to come into marriage free of that kind of baggage.  The baggage we're coming with on our own outside of that experience is more than enough. We all have some kind of baggage.  I've relaxed my preference simply because we are living in a divorced world.  Everybody is divorced or divorcing! One of my closest friends is in the process of divorcing his wife of 8 years plus I attended a church a couple of years ago where everyone I met was divorced. It blew my mind.  They had a divorce ministry, workshops and everything else to support all of the divorced couples yet they had nothing to teach singles about dating, relationships or marriage.  Anyhoo…
He Could Be A Jerk
Back to Adrienne and the gang.  I agree with Tamera.  I need to know why you're divorced.   Like she said, "He could be a jerk!" I also agree with Tamar; "That relationship has nothing to do with your relationship."  What he was back then has nothing to do with who he is now.  Maybe he was a jerk with his ex because she was a jerk and brought out the jerk in him.  I also agree with Adrienne and Loni who is divorced and says, a previous marriage can definitely teach you what to do and what not do the second time around.  The fixer in him might be determined to have the best marriage he's ever had the second time around.
Zero Responsibility
The one thing that would stop me from dating/marrying a divorcee is him taking zero responsibility for the end of his marriage. I've met several divorced guys.  One comes to mind.  All he could do was point his finger and blame his wife for everything; "She didn't do this, she wasn't that," as if he wasn't a part of the marriage.  He looked at me like a deer in the headlights when I asked, what did you do? Were you even in the marriage?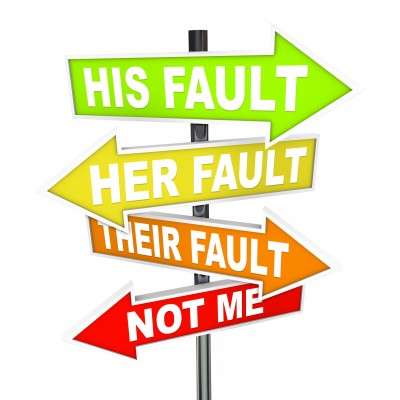 Blame Prevents Learning
If he's pointing fingers and blaming it all on her, I want nothing to do with him.  He'll do the same thing to me when things go left in our marriage and that's unacceptable.  When a relationship ends, I believe both people are responsible even if your responsibility was ignoring the red flags and choosing wrong.  You did something, said something or didn't do something. Cause and effect is real.  Own it!  Blame prevents learning.  Once we've taken responsibility for something, we can do something about it.  
Something to think about…
What say you? How do you feel about marrying a divorcee? What are the pros and cons? Are both people responsible when a marriage ends?
Here are 2 things I'd like you to do now:
 1.  Leave a comment below
 2.  Share this post if you like it