He Was Like A Kid In A Candy Store
Last night, Bruce Jenner declared, "I am a woman" to over 16.5 million people in his exclusive sit-down interview with Diane Sawyer.  Were you one of those people? I was.  I watched the interview out of sheer curiosity.  You see, I met Bruce Jenner when I was a Producer on a daytime talk show and he was my guest.  I talked to him.  Spent time with him. Pre-interviewed him and thoroughly prepped him for the segment.  Saw him in his element playing with his helicopters.  He LOVES his helicopters.  He was like a kid in a candy store!

Humble, Unassuming Man
I didn't take a picture with him because he's not that guy.  He's not that celebrity always ready to snap a pic.  He's a very humble, unassuming man who doesn't draw attention to himself.  He doesn't have to.  He stands tall with head high and shoulders back.  He didn't come dressed in a suit.  He was dressed California casual; a pair of slacks, a nice shirt and nice shoes.
Why Does He Now Want To Be A Woman?
When I started hearing rumblings a while back that he was turning into a woman, I was confused.  Bruce Jenner? The gold medal winning decathlete? Bruce Jenner? The man I met and booked for my segment?  That Bruce Jenner? What's wrong with him? Why does he now want to be a woman?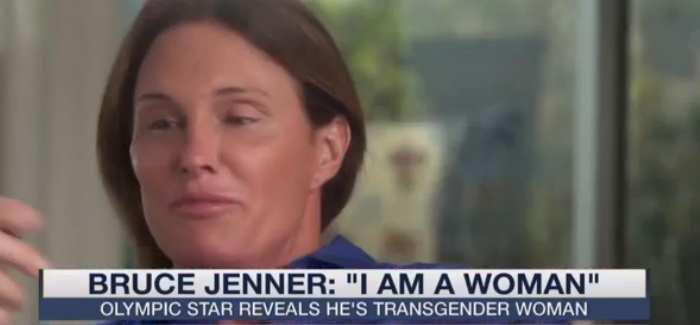 How Can He Now Be A She?
Last night's interview confused me even further.  After watching it and having some time to think about it, it seems to me like Bruce Jenner is a man who likes to play dress up as a woman.  He seems like a cross-dresser to me more than anything else.  He's not a woman.  He was born a man.  How is he all of a sudden a woman? How can he now be she? Because he says so? Is that all it takes? I have lots of questions:
~What is transgender?
~Is transgender a made up term?
~Since when is sexual identity and gender orientation not the same thing?
~How does an 8-year-old boy know he wants to be a woman?
~Is a man now a woman just because he says he is at the age of 65 even though he still has a penis?
~Is a woman a  man just because she feels like a man and always had a thing for wearing men's clothing?
~Is a woman a man if she shaves her head and takes hormones to feel and look like a man?
Family Support Is Everything
The one thing that has warmed my heart throughout this entire conversation is the support he receives from his family most importantly his 86-year-old mother who says, "I want you to be happy, and I love you.  I was very proud of you when you stood at that podium in Montreal.  I never thought I could be more proud of you but I'm learning I can be."  Family support is everything. Lack of family support hurts.
You Are Judgmental
The one thing that continues to disturb my soul is the conversation about acceptance.  The general consensus is, if you don't accept the new Bruce and agree with his lifestyle, you are judgmental and deserve to be called every derogatory name in the book.
I Can Disagree With You And Still Love You
During the interview, Kris Humphries, ex-husband to Kim Kardashian West tweeted, "Man, I'm glad I got out when I did." He was called a hater, gross, mean and other derogatory names. Why? Where's the acceptance? Why does everyone have to agree with this? Why is a person called judgmental if they don't? Why is a person accused of not being loving just because they disagree? I can disagree with you and still love you.  One has nothing to do with the other. Bruce spoke his truth. Why can't others speak their truth and be accepted?
So God created mankind in his own image, in the image of God he created them; male and female he created them.  Genesis 1:27
Something to think about…
What say you? Did you watch the interview? What are your thoughts on Bruce declaring he's a woman? Do you understand the term transgender? 
Here are 2 things I'd like you to do now:
 1.  Leave a comment below
 2.  Share this post if you like it